Frequently Asked Questions
Find out the answers to commonly asked questions about our natural products. If you have any other questions, please get in touch.
The bristles in most of our toothbrushes are made of recyclable nylon, with 63% plant-based material. Our 'natural' brush bristles are made with bamboo or charcoal fibres and nylon 6. Unfortunately, there are currently no 100% biodegradable plant-based bristles available in the market (despite some claims by others!) and we are not willing to use animal hair, which is the only 100% natural and biodegradable option. Our bristles are recyclable anywhere that nylon can be recycled, so please check with your local authority or recycling centre. With your continued support of our f.e.t.e toothbrushes, we hope to have a completely biodegradable toothbrush and brush head soon. As soon as a 100% natural & biodegradable option is available, we will be making the switch!
Neither! There is no glue or metal staple used in our toothbrushes, we attach the bristles using pressure. This keeps the brush more eco-friendly! However, because of the way they are attached, occasionally a bristle or two may fall out, but it's a very rare occurrence. Please let us know if they do.
Our bamboo toothbrushes can be ordered in either soft, medium or firm bristle strength, but not all colours are available in all strengths.
The toothbrush can biodegrade and be put into the home or commercial compost but the bristles need to be pulled out and thrown away in your general waste or recycled at a facility that recycles nylon. Once the bristles have been pulled out, the handle can be put in the compost and will return back to the soil within about 6 months. You can also reuse the handle for creative purposes; they're very useful in the veg patch for marking your seedlings, for example.
Yes, once you have taken the bristles out of the brush head and thrown them in your general waste bin, or put them in a facility that can recycle nylon, you can then compost your toothbrush.
On average you should change your toothbrush once every 3-4 months. Over time the bristles become frayed and worn and may lose their effectiveness in cleaning your teeth. However for some people who brush a lot, it may be necessary to change the toothbrush more often.
Our toothbrushes are coloured with a natural resin paint, a type of plant based paint – this allows you to compost your toothbrush handle.
Yes. The packaging is completely biodegradable. Our toothbrushes come wrapped in recycled paper and a recycled kraft cardboard box.
Of course! Our brushes are 100% vegan, and have never and will never be tested on animals, ever.
We recommend that you rinse your toothbrush with water after every use, dry or shake off any excess water, then ideally store it in one of bamboo stands so it can dry completely between uses. Storing your toothbrush wet or in a cup can allow water to build up which will eventually discolour the bottom of the bamboo toothbrush and could lead to mould
After use, please don't leave standing in water! If you do, or leave your brush in a wet and or cold environment, sometimes it could go mouldy. You need to let your toothbrush breathe and dry, as otherwise it collects moisture. It is a natural and untreated material after all, so it needs to be cared for as you would care for wood. Simply clean any mould off and dry the inside of your toothbrush holder. Preferably put the toothbrush in a place where it can stay dry and at room temperature and the problem should be solved.
Absolutely! Our all natural bamboo cotton buds are made from Moso bamboo and natural cotton, grown without using chemicals.
These are made of bamboo, entirely. They are sturdy and should last for years.
Our hair brushes are made of bamboo and natural rubber, only. They can biodegrade or be composted once you're done with them, but we hope they'll last and be useful for your whole life! The bristles are made from bamboo, the handle and back are of bamboo and the bristle bed is natural rubber.
Konjac is a perennial plant native to Asia which has been used as a food, traditional medicine and for beauty in Asia for more than 2000 years! The main element is the wonderful, water-soluble dietary fiber–glucomannan found in the root. It can be found growing in the wild, high up in the mountains. It is more than 95% water, rich in minerals and naturally alkaline which is why it is great for your skin. Our konjac sponges are certified to be made of 100% konjac root (other brands may include chemicals so it's always important to check that small print!).
The EarTül is f.e.t.e's take on a brilliant, practical instrument that has been used by the people of China & Japan for generations for their personal hygiene. It's essentially a little scoop you can use to clean out the visible entrance to the eardrum of any unsightly wax. (Sometimes known as an Oriculi). Our EarTül is made only from bamboo and natural jute so can be composted when you're done with it.
You just use the scoop end to gently scoop around the outer area of the ear, and the entrance to the ear canal to take away any unsightly earwax and then wipe it off with a tissue. Do not enter the ear canal with the EarTül.
Our bamboo is sourced from a plantation specifically for bamboo use in making toothbrushes. We purchase raw material from Anji – one of the biggest areas for bamboo in China. Our bamboo is Mao (Moso) Bamboo, it is one of the hundreds of bamboo species that panda bears don't consume – so production of our bamboo toothbrushes do not stop pandas from getting their breakfast.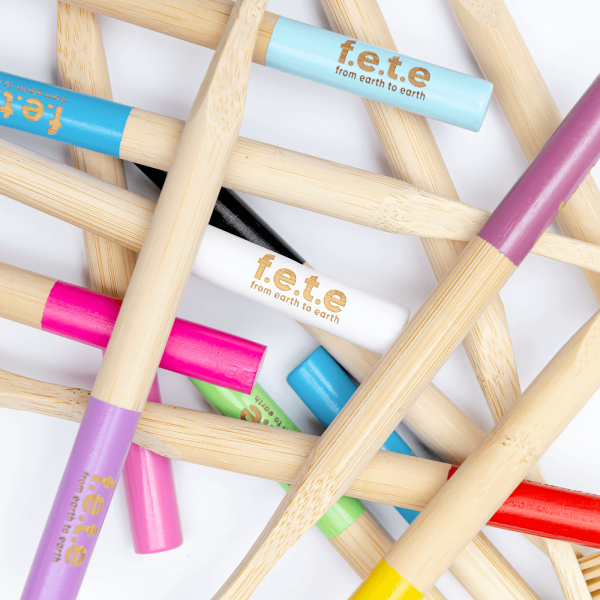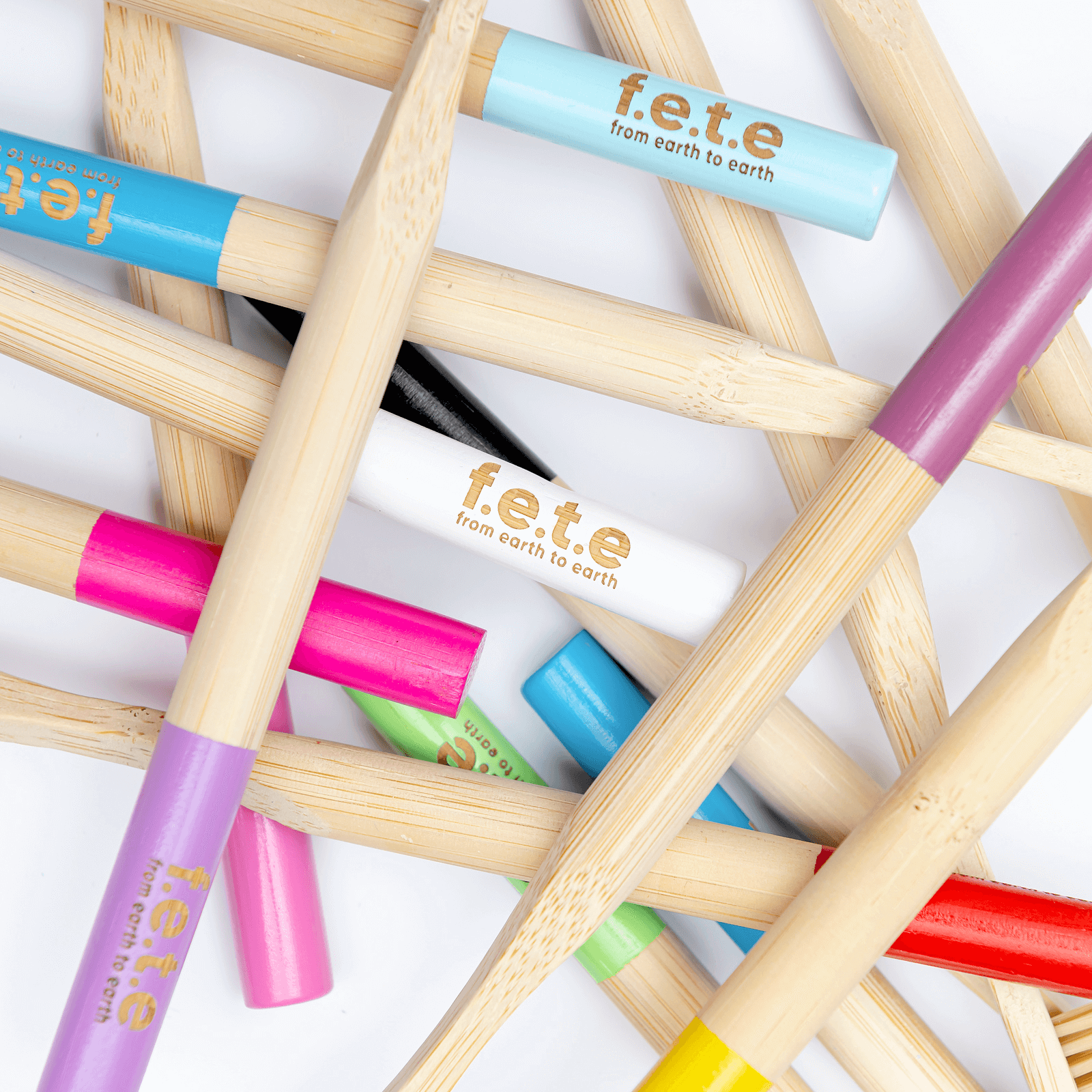 Start a Subscription
From:
/ month
Beautiful bamboo brushes, delivered direct to your door!
Select your colour, size, bristle strength and frequency and then leave the rest up to us.