Why switch to a bamboo toothbrush?
In this post, i'm going to outline problems we face in society concerning plastic pollution and i'm going to give you the benefits for switching to a bamboo toothbrush and why it's important to the environment.
Post date
Friday 31st May 2019
Tagged

In this post, I'm going to outline problems we face in society concerning plastic pollution and I'm going to give you reasons to switch to a bamboo toothbrush and why it's important to the environment.
The most important reason to switch to a bamboo toothbrush is to stop using plastic. Bamboo toothbrushes are biodegradable and compostable as opposed to plastic toothbrushes which create a problem for our environment due to taking years to decompose.
Here's why plastic is a problem and what you can do about it…
The problem with plastic
One plastic toothbrush can seem like a harmless thing to throw away. It's like you only throw one plastic toothbrush away every 3 months anyway, so that's really only 4 toothbrushes in the bin per year. But how many years have you been throwing away toothbrushes?
If you're throwing away 4 every year, that's 40 every decade. If you're over 30, you've already likely thrown away 120 toothbrushes in your life. But it's ok, they're out of sight somewhere decomposing. Guess what – they're not. They're sitting in landfills around the world, taking thousands of years to decompose. So that toothbrush you had when you were a child – yeah, it's still sitting somewhere. Maybe it's in a landfill, maybe on a beach. I'm sure there's a turtle out there thanking you for your contribution to polluting his environment.
So now imagine what it looks like when roughly 7 billion people throw away 4 toothbrushes every year. It's estimated that 3.5 billion are thrown away every year. It's hard to fathom such a number.
That gives you some perspective on you throwing away 'only' 1 toothbrush every 3 months.
The most inhumane part of all this, is the animals out there that digest and consume our disposed plastics. Albatrosses, turtles, seals, they've all fallen victim to our plastic pollution.
So what can you do?
There is an alternative to this mass pollution by plastic toothbrushes and it's not as complicated as you might think. The solution: bamboo.
This may seem like a strange thing to put in your mouth. But bamboo has a lot of benefits. The biggest benefit is it's impact on the world around us. And that should be reason enough to switch to a bamboo toothbrush. But there are even more reasons.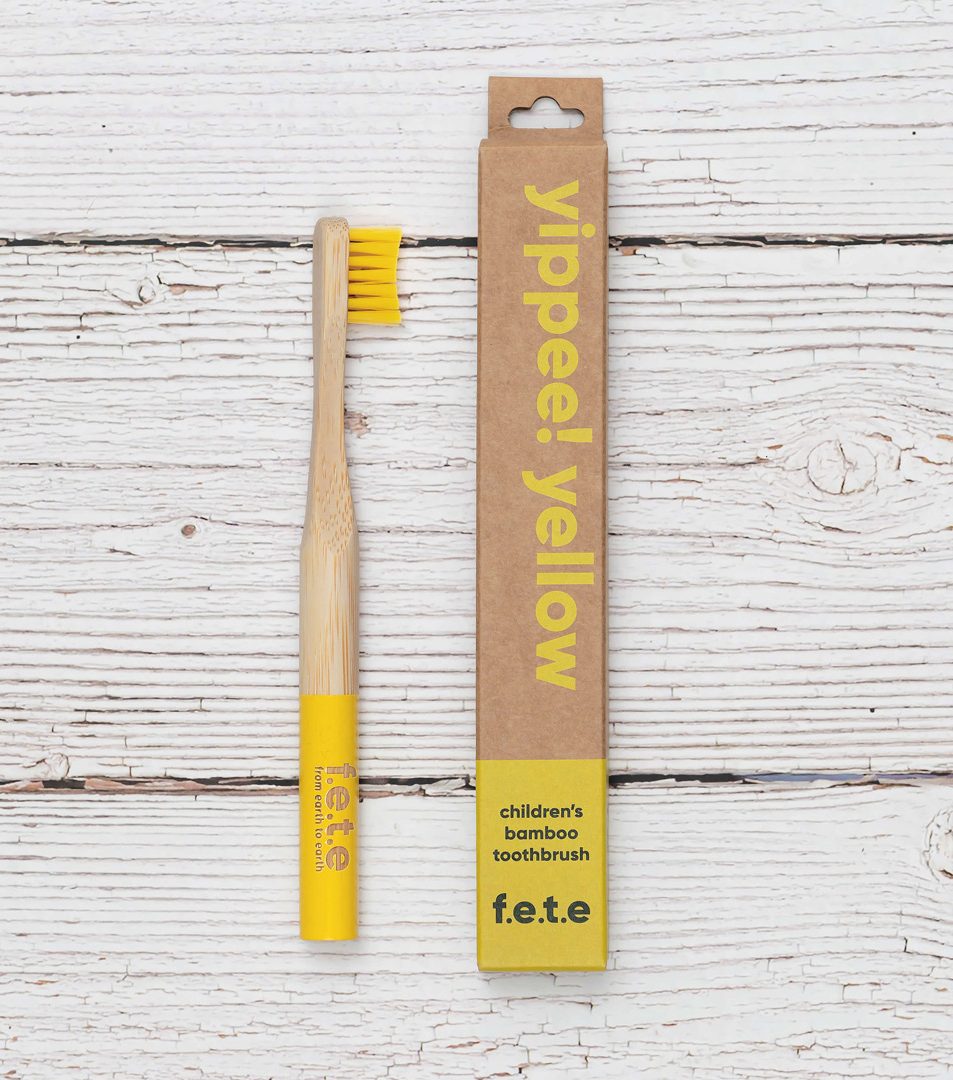 Benefits of switching to a bamboo toothbrush
Fast Growing
Bamboo is the fastest growing resource on the planet. Some species of bamboo can grow 91cm within 24 hours. Moso (the species of bamboo used for bamboo toothbrushes) grows into a giant within a few weeks. Bamboo also produces more oxygen and absorbs more carbon dioxide than any other plant. It's also important to mention the fact that Moso bamboo is a species that isn't consumed by pandas, so there's no danger of taking the pandas food away from them.
Biodegradable
Bamboo is a biodegradable material. If you put bamboo in your garden it can take 5-10 years to biodegrade but when it's composted it will only take 4-6 months to biodegrade (depending on the composition). Unfortunately, the bristles of a bamboo toothbrush are only partially biodegradable.
Antimicrobial
Bamboo is naturally antimicrobial, this means bacteria won't grow on your toothbrush which will reduce the risk of disease. Due to bamboo's antimicrobial properties, no pesticides or chemicals are needed for it's growth.
Plastic Free
By using bamboo you're also negating the negative effects of using plastic. Plastic releases toxic microparticles into your mouth, not sure about you but that's plain gross. Choosing bamboo is choosing better oral health. Not only are you protecting yourself from microplastic, but you're also protecting marine life from consuming microplastics.
Look and Feel
Bamboo toothbrushes feel great in your hand and come in a variety of colours. The bamboo is smooth to the touch and there is a bristle strength to suit every need. The handles come in various colours so you'll easily be able to differentiate between family members and bring more colour to your bathroom.
Not only can you compost your bamboo toothbrushes but there are many creative uses. Use your old toothbrush to clean small hard to reach areas. Or use them as seed markers for your herbs or flowers (make sure you pull out the bristles and dispose of these in your normal rubbish).
How Long Can You Use a Bamboo Toothbrush?
Dentists recommend you change your toothbrush once every 3-4 months. Over time the bristles become frayed and worn and may lose their effectiveness in cleaning your teeth. However, for some people who brush a lot, it may be necessary to change the toothbrush more often. You should also change your toothbrush after any period of illness.
How to stop your bamboo toothbrush from going mouldy?
The main reason bamboo toothbrushes go mouldy is because they're kept in a cup that gathers water at the bottom. If you keep your toothbrush dry, either within a bamboo toothbrush stand or holder, your toothbrush will cease to get mouldy.
Final Thoughts
With the world becoming more aware of plastic pollution, now is the time to do your own due diligence and discover ways in which you can help the environment. Making a switch to bamboo is probably the easiest way to do this. There are so many benefits to choosing a bamboo toothbrush, you'll find it hard to come up with a reason why you shouldn't switch.
When buying your bamboo toothbrush, make sure it also comes in biodegradable or recyclable wrapping.