Exciting Projects by LAEO
Annual Report by Lawrence Anthony Earth Organization – South Africa From Earth to Earth (FETE) are proud supporters of the Lawrence Anthony Earth Organization (LAEO). An organization close to us and an organization related to the ideology of our own brand. It has been a busy year for LAEO, with important projects around Africa, including […]
Post date
Monday 29th March 2021
Tagged
Annual Report by Lawrence Anthony Earth Organization – South Africa
From Earth to Earth (FETE) are proud supporters of the Lawrence Anthony Earth Organization (LAEO). An organization close to us and an organization related to the ideology of our own brand.
It has been a busy year for LAEO, with important projects around Africa, including Environmental School Camps, mentorship training, accredited training on environmental protection and a wide-spread cleanup campaign.
Below you'll find out what exactly LAEO has been up to in the last year but first here's a word from the LAEO's International Executive Director:
This year has, once again, been a bumper year as we continued to bring environmental education and environmental change across the globe. With our diverse teams all over the world, we work to implement a suitable solution to the country and community with whom we engage. These may vary from first world scientific interventions to hands-on education and job creation in third world countries.
There is no one-size-fits-all approach as each country faces its own challenges. It is important when engaging with the individuals and groups in a given territory to apply a solution that can be implemented to bring the desired changes. These solutions often have to be developed on a gradient that can be implemented by that group based on existing resources and needs of their community.
Understanding the fundamental importance of safeguarding the environment becomes more vital to the survival of humanity with each passing year. The Lawrence Anthony Earth Organization will continue steadfast in our efforts to protect the environment for all. It is with gratitude that we thank our donors and partners who have made our work possible and continue to do so into the future.
Sincerely,
Yvette Taylor
Being based in a third world country, it is vital that we address the issues of poverty as they relate to our conservation goals. Thus, our South African International Headquarters continues to focus on local community education and environmental conservation as a key part of our endeavours.
Working with communities comes with its own set of challenges and the community empowerment program that we are pushing forward will become a model for application to communities all over South Africa and other areas around the world with similar challenges.
ENVIRONMENTAL SCHOOL CAMPS
WE RAISED AWARENESS AND UNDERSTANDING OF ENVIRONMENTAL ISSUES AND SOLUTIONS IN 600 STUDENTS AND 45 TEACHERS
In alignment with our Cooperative Ecology goals, a key endeavour for LAEO is bringing environmental education to a broad base of people. We strongly feel it is only by changing the way people think that we will be able to bring about real change in how they interact with the environment and other life forms.
This year, with the wonderful support of Peter Eastwood & the Tanglewood Foundation, we had the opportunity to take nearly 600 Grade 7 learners (12-13 years old) and 45 teachers from disadvantaged communities in South Africa on a life-changing weekend environmental camp.
After meeting with the Department of Education, school Principals and teachers from schools in the KwaXimba area around the Mayibuye Game Reserve and in the Umkomaas valley, we helped to initiate an art and essay competition in 20 schools. Learners could submit a drawing or essay on specific conservation themes. Winners were selected and won a weekend environmental camp at the beautiful Nyala Pans River Camp.
Most learners did not believe that they were really going on a trip until the bus arrived and then they exploded into songs. The excited kids enthusiastically sang and waved to everyone the bus passed on the roads.


The impact on learners has been remarkable and, in many cases, life changing:
"Did I enjoy Nyala Pans let me think, I mean who wouldn't have enjoyed a nice holiday. Where you get to be treated like a queen or a king where you get, to sleep peacefully on your bed without someone, tossing and turning. We even got to eat breakfast, lunch and dinner. It felt like home…"
"…What I got to learn in Nyala Pans is, to learn to get to know other people to try and, talk to them. Even if you are shy just like me. I get really shy words don't come out, but as a result of the camp I'm not shy anymore. What I learnt about the environment is to stay at a clean and neat place and put a difference, between wants and needs because, needs are more important than wants… when we went hiking we learnt more about the environment of animals it was awesome we even saw animals we never thought we would see… I learnt a lot about the environment, the camp helped me a lot." ~ Student ~
"I learnt that we need to keep our environment clean. We need to recycle the waste product for the environment. We need to drive our cars less for the environment. We need to reduce the usage of our wooden stove. We need to reduce usage of chemicals for the environment." ~ Student
"I learned that you must not throw a paper in rivers and don't pour anything with chemicals you will kill the animals living there. Yes it did change one, I have never saw giraffes in my life before. And now I know how to communicate with other children of other schools. Is that I will listen to all the things and words and keep them for the future and never pollute the environment." ~ Student


ENVIRONMENTAL MONITORS
WE'VE TRAINED AND ACTIVATED 15 YOUNG PEOPLE TO MENTOR AND TRAIN OTHERS
Our 15 environmental monitors (EMs) are making a huge impact in the Mayibuye community. They are educating learners, mentoring students on environmental courses and implementing security around the game reserve. The EM's have completed mentorship, Assessor and environmental courses, such as the Nature Site Guide, at the South African Wildlife College to give them the skills needed to effectively do their work. Not only did the EM's assist with all the school camps they also mentored fifty Resource Guardianship students who did a year-long training course at our Mayibuye Training Centre. The EM's
helped the students by mentoring them through their practical work.
As part of the mentorship program and general duties they carried out the following activities:
Road maintenance;
Litter clean-ups;
Fence Inspections and patrol;
Property maintenance including plumbing;
Bush clearing – cutting back bush encroachment;
Started a new educational campaign in the schools with the "Wonderful Wildlife Activity Booklet" from Blue Sky Society. We gave out over 4,000 booklets at numerous schools to bring home the environmental message;
Domestic and field infrastructure maintenance;
Plumbing;
Identifying alien plants;
Vegetation mapping with Resource Guardianship learners;
Animal distribution mapping;
Accompanied Resource Guardianship students on field trips to further their knowledge on local history, such as the Nelson Mandela Capture Historical Site;
Carried out sustainable farming projects;
Worked with the learners to install gabions (a gabion is a large wire basket filled with rocks and placed in eroded areas to prevent further soil erosion);
Environmental crime scene investigation practice; and,
Planted 25 trees in the grounds of local schools and churches.


NATIONAL SKILLS TRAINING
85 COMMUNITY MEMBERS GET ACCREDITED TRAINING ON PRESERVING THE ENVIRONMENT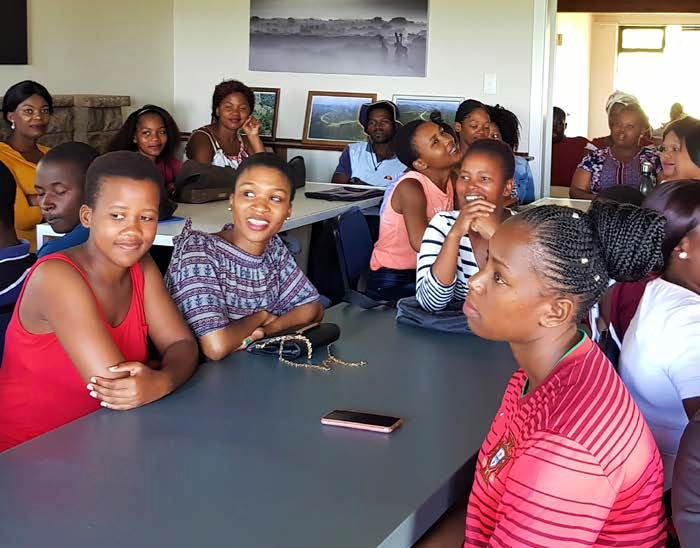 LAEO implemented training programs to benefit the unemployed and under-employed women and youth within the KwaXimba community. These rural communities fall within the rural poor category and most do not have access to sustained income. Surveys have found that a single working "breadwinner" may support up to 20 people in one household!
Fifty learners trained on Resource Guardianship.
Fifteen learners trained as Nature Site Guides.
Twenty cattle owners attended a Disease Control Workshop
CLEANING CAMPAIGN
OVER A TON OF LITTER PICKED UP
LAEO carried out a cleaning campaign in the KwaXimba community with our 15 Environmental Monitors, 25 Resource Guardianship students, and approximately 20 members of local community-betterment organizations such as the South African National Civic Organization, The Way to Happiness Foundation and KwaXimba Conservancy.
Litter had become a big problem in the area with goats and cows becoming ill from eating it. In total, over 80 bags of rubbish were collected equalling over a ton of waste that the Durban Solid Waste company then properly disposed of.


NATIONAL RESOURCE MANAGEMENT
JOBS FOR 80 COMMUNITY MEMBERS – 500 HECTARES (1,235 ACRES) CLEARED OF INVASIVE PLANTS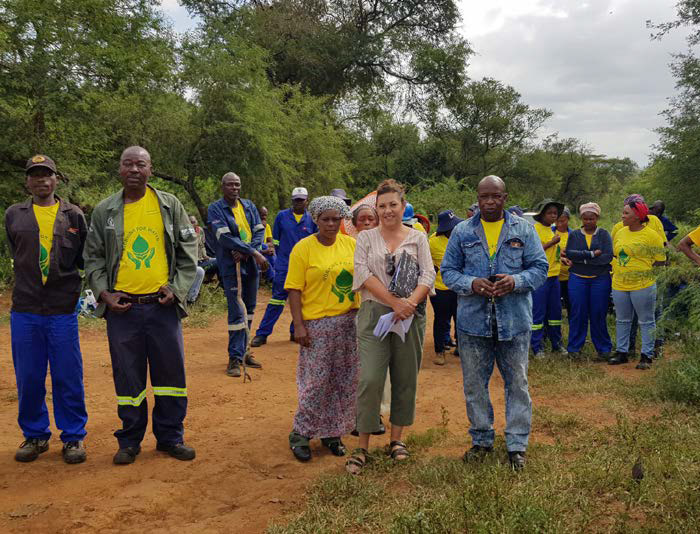 1.8 million rand (approximately $105,000 U.S.) was awarded to LAEO by the Department of Environment, Forestry and Fisheries. This kicked off a new alien plant clearing project. The project is aimed at poverty alleviation by creating employment in rural areas whilst having a positive environmental impact by removing alien invasive plants. Focus areas are those that line and congest waterways because these destructive, invasive plants require high volumes of water and, as a result, cause rivers to dry up. The program has provided employment for 80 community members and we cleared 500 hectares (1,235 acres) of alien plants in 2019 alone.
HAPPY EARTH FESTIVAL
1,529 STUDENTS AND 111 TEACHERS INCREASED THEIR UNDERSTANDING OF THE NATURAL WORLD
For the seventh year, the Happy Earth Festival, whose primary objective is to help build a more sustainable world through creating awareness of the natural environment and human responsibilities towards it, was held outdoors in the Botanical Gardens in Pietermaritzburg. 1,529 children from local schools and 111 teachers participated in interactive activities designed to engage the senses and generate a feeling of connection, understanding and action. Participating teachers also had the opportunity to develop and broaden their own teaching capacity and understanding of environmental problems and solutions.
We were one of 20 environmental organizations and 140 educators/volunteers who collaborated to put on this event. Our Executive Director, Yvette Taylor, is the Chairman of Happy Earth and she helped to create a fun and interactive educational game for the Festival called 'The Amazing Race', where learners would race between different activities such as identifying indigenous plants, catching and releasing water insects, playing in the leaves, running a three-legged race, and more.
Through our involvement in this event, we were able to spark a lifetime of interest in nature with many of the students.
SKYDIVE FOR RHINO
RAISING FUNDS FOR RHINO PROTECTION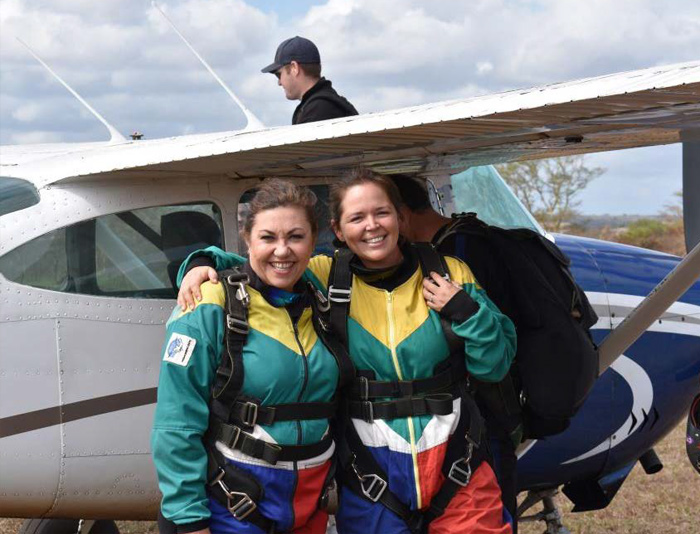 LAEO is a member of Project Rhino, an affiliated group of organizations who work together to protect rhino from poaching. Our International Executive Director, Yvette Taylor, went the extra mile to support the amazing work done by Project Rhino by joining the Manyoni team to raise funds through a project called "Skydive for Rhino".
The team collectively raised R104 000 (approximately $7,000 U.S.) to continue the vital work of rhino protection by getting supporters to dare them to skydive in exchange for donations. Each skydiver had to raise a minimum of R5000 in order to participate. The team members went up in a tiny plane, two at a time, and, at 10,000 feet, stepped out into open space with their tandem partner. While definitely scary for those who had never done this before, being able to see amazing wildlife in the beautiful Hluhluwe area of KwaZulu Natal as they descended to Earth made it all worthwhile.
PARTICIPATING IN THE WORLD YOUTH RHINO SUMMIT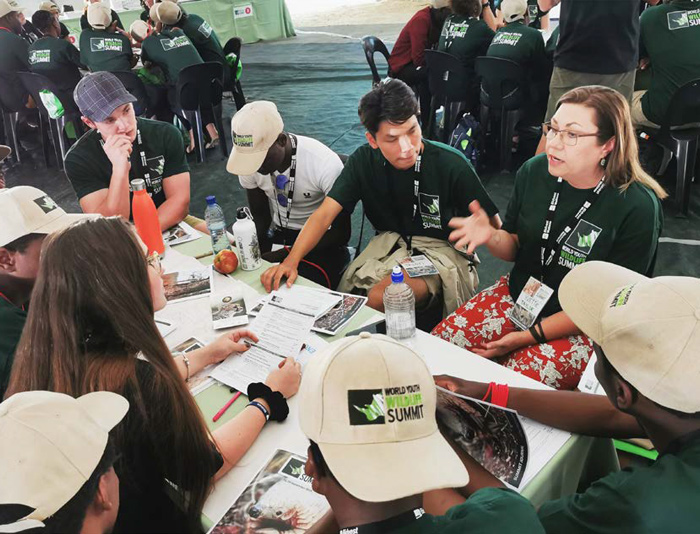 This year Project Rhino once again hosted a very successful Youth Wildlife Summit, bringing together 165 youth and 20 adults from all over the world.
The delegates had an intense, exciting and knowledge packed four days at the South African Wildlife College in the Kruger National Park. The goal of the summit was to have the youth engage with conservation leaders and, thus, become local and international Ambassadors for wildlife and conservation.
Yvette Taylor was very honoured to be invited to participate in the summit as a conservation expert to lead discussions with youth groups on various topics.