Annual Report by LAEO – USA
From Earth to Earth (FETE) are proud supporters of the Lawrence Anthony Earth Organization (LAEO). An organization close to us and an organization related to the ideology of our own brand. It has been a busy year for LAEO, with important projects around the USA, including researching and acquiring cutting-edge technologies for water location for […]
Post date
Wednesday 19th May 2021
Tagged
From Earth to Earth (FETE) are proud supporters of the Lawrence Anthony Earth Organization (LAEO). An organization close to us and an organization related to the ideology of our own brand.
It has been a busy year for LAEO, with important projects around the USA, including researching and acquiring cutting-edge technologies for water location for animals and people in need as well as locating borehole sites for water wells.
Below you'll find out what exactly LAEO has been up to in the last year but first here's a word from the LAEO's International Executive Director:
OUR 2019 FOCUS AND ACCOMPLISHMENTS
OUR EDUCATIONAL MATERIALS ARE USED TO BRING OIL SPILL SOLUTIONS TO COUNTRIES AROUND THE WORLD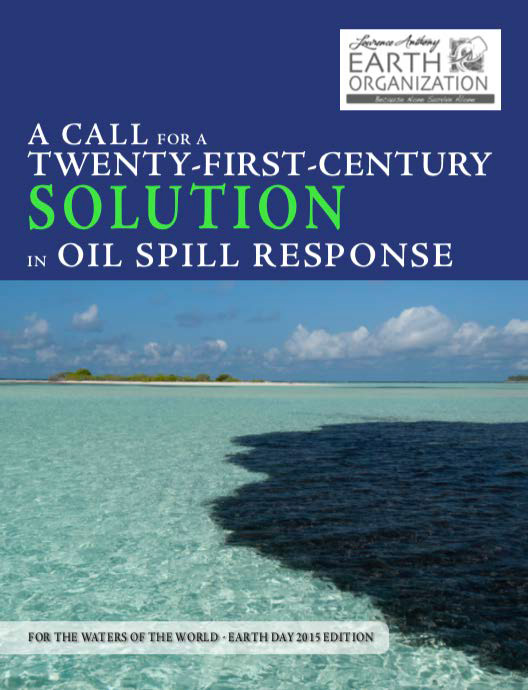 2019 was a banner year for LAEO U.S., with accomplishments and progress that have exceeded all previous years combined. Since the massive Gulf of Mexico oil spill in 2010, LAEO U.S. has continued to work with like-minded groups to advance effective, non-toxic oil spill clean-up technologies around the world. Our educational materials have been used to expand the success of that program in over 60 countries.
RESEARCHING AND ACQUIRING CUTTING-EDGE TECHNOLOGIES FOR WATER LOCATION FOR ANIMALS AND PEOPLE IN NEED
In 2015, we began confronting the planetary crisis connected with the lack of accessible fresh water and the extremely negative impacts this is having in so many countries around the world on human health, the economy, biodiversity, and the well-being and perpetuation of the natural world. At that time, we were introduced to what appeared to be promising advancements in the science of water and the field of water location, particularly applicable in highly arid and drought-prone regions of the world.
We began researching and vetting the information and methods that could potentially provide much higher success rates when searching for good quality water in high quantity. Our purpose was to supplement water resources in regions in need of large-scale reforestation for the re-creation of wildlife habitat, and to enhance food and water security. As a result, in 2018, we launched a program to help bring potential solutions to the global clean water crisis. In 2019, this program became the primary focus of LAEO U.S.


Below are our most major accomplishments of the year in this field.
HIGH-TECH, WATER LOCATION SYSTEM DESIGN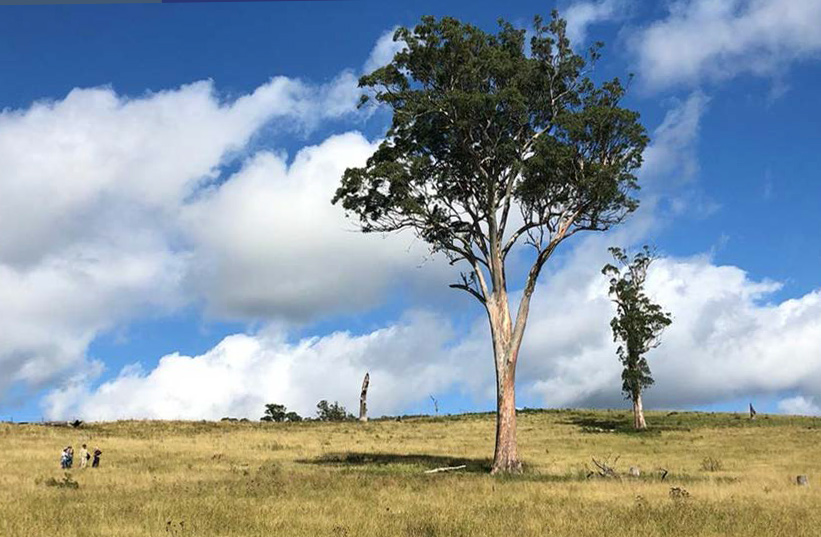 "As a first step, we sent our newly hired team of scientists (specialists in geology, hydrology, biology, advanced satellite mapping and analysis techniques, and environmental management) to Australia for 6 months of tech acquisition and research." They studied under experts and began codifying and advancing water location technology for mitigating the impacts of severe drought on rural communities, farmers, ranchers, and
nature.
To identify and set us apart from other fields, we named our proprietary system Deep-Seated Water Technology® (DSW-Tech®) and we have registered this science as a unique intellectual property in 167 countries.
VETTING AND DOCUMENTING THE TECH OF DEEP-SEATED WATER LOCATION
After studying under our water location and satellite mapping experts, the next step we have had to undertake is the documented, scientific verification of deep-seated water (water that is far below shallow
groundwater aquifers) and the isolation of any defining characteristics it may have. Our Senior Geologist, Dr. Tigran Sadoyan, designed a research program to accomplish this and, under his guidance, our team is completing those qualifications, including writing technical bulletins on geology, hydrology, and geophysics. These bulletins are currently in development for our training materials to cover key aspects of these very technical subjects.
As a part of this step, an LAEO research team visited three historic water well sites in California, and a natural perennial spring in New South Wales, Australia, each with high probability of being deep-seated water, to study the geology of each area and analyze why these particular water sources had been so productive for so many years.
LOCATING BOREHOLE SITES FOR WATER WELLS
WE SITED OVER 50 POTENTIAL BOREHOLES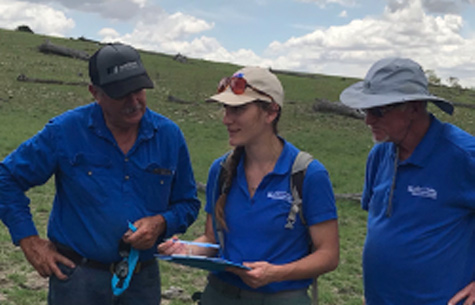 While we still have more to do to complete the full tech acquisition and compilation of training materials, we began delivering mapping and analysis services, field site assessments, and identifying precise borehole
locations for landowners. We have sited over 50 potential boreholes for farmers and ranchers in need just in the past few months.
To expand our delivery capabilities, two new companies were formed to partner with LAEO to implement our DSW Tech breakthroughs:
1) a U.S.-based global-facing company named
GIS Analytics Research LLC, (headed up by its CEO, Jim D'Arezzo),
and
2) a regional-based company named GIS Analytics and Research Australia Pty Ltd, (Managing Director Darryl Bothe).
Our Deputy Executive Director, Deb Schreib, has coordinated the voluminous legal work necessary to bring these two entities into existence in partnership with LAEO.

EXAMPLES OF WATER BOREHOLE SITES WE HAVE LOCATED
Under the extremely able administrative guidance of our Managing Director, Diane Wagenbrenner, the following are a few examples of the projects we completed or that are currently in progress.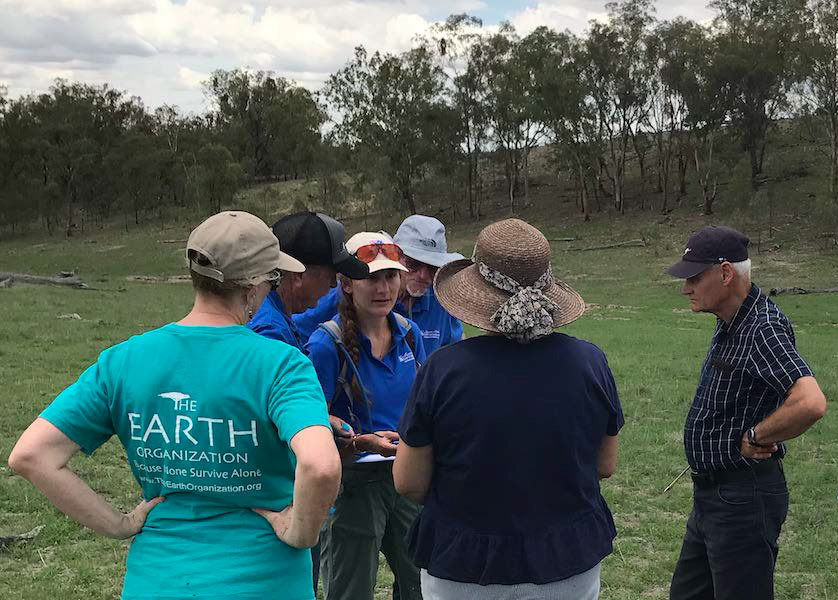 STANTHORPE, QUEENSLAND, AUSTRALIA is a farming community and town under severe drought conditions that have created economic disaster in the region. The town's water resources had completely run dry and water was having to be trucked in from great distances at huge and unsustainable expense. At the request of a strategic partner in Australia, Sustainable Water Solutions, our Senior GIS Analyst, Alli Del Gizzi, produced an extensive deep groundwater resource analysis of the Murray-Darling River Basin region to enable them to devise a drought-proofing plan.
While other companies had engaged in many failed and costly water location attempts, we presented a more precise water locating method to a group of area farmers to help them begin a recovery plan. This included siting 30 potential borehole sites and drilling the first one as a demonstration.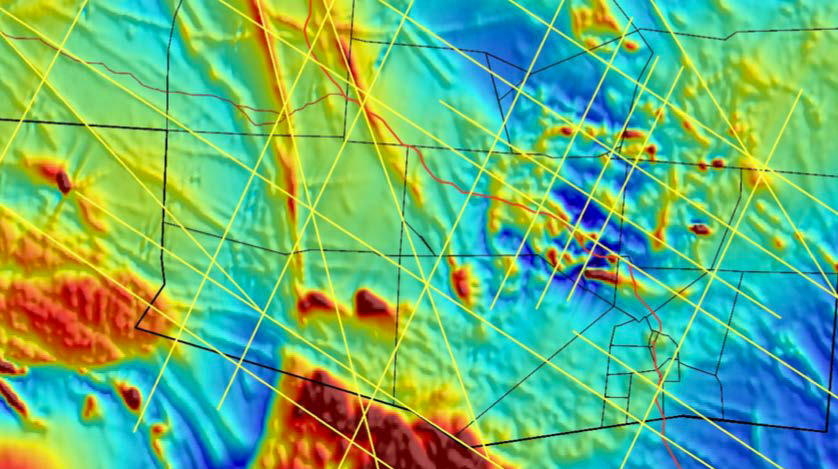 In Buckleboo, South Australia, we conducted remote mapping assessment for a large ranch. A subsequent field survey was completed with six sites for exploratory well drilling identified. Choosing one of the areas we recommended, the rancher drilled a successful borehole, finding water at exactly our predicted place and depth. This borehole is now producing approximately 6,000 gallons of high-quality water per hour for one very happy rancher.
We began work in March for Temora, New South Wales, producing
and analyzing maps, identifying several potential bore sites. Drilling is
planned for the near future.
After a landowner had six, unsuccessful boreholes drilled by others on his property in Orange, New South Wales, we utilized our technology to identify two drilling sites. In August, he drilled at the first site we recommended and, as we predicted, drilled to a depth of 131 meters and got a flow rate of 3,000 gallons per hour, after which he wrote to us saying, "It was a wonderful relief to find good water after 6 dusty dry holes."

The water company of a small mountain community, Pine Mountain Club, California, brought us in to provide accurate and in-depth analysis of potential good-quality water resources that could be accessed within its boundaries. An LAEO team spent several days mapping the area and conducting on-site field assessment and then presented our results to their Board of Directors, guiding them to five potential borehole sites with a high likelihood of good quality water.
LAEO U.S. is currently developing water location projects in Kenya, South Africa, and the Middle East. Our International President, Barbara Wiseman, took teams of LAEO Staff and Advisory Board Members to each of these regions to meet with key government officials and other potential strategic partners to push forward future projects to bring water to areas in desperate need.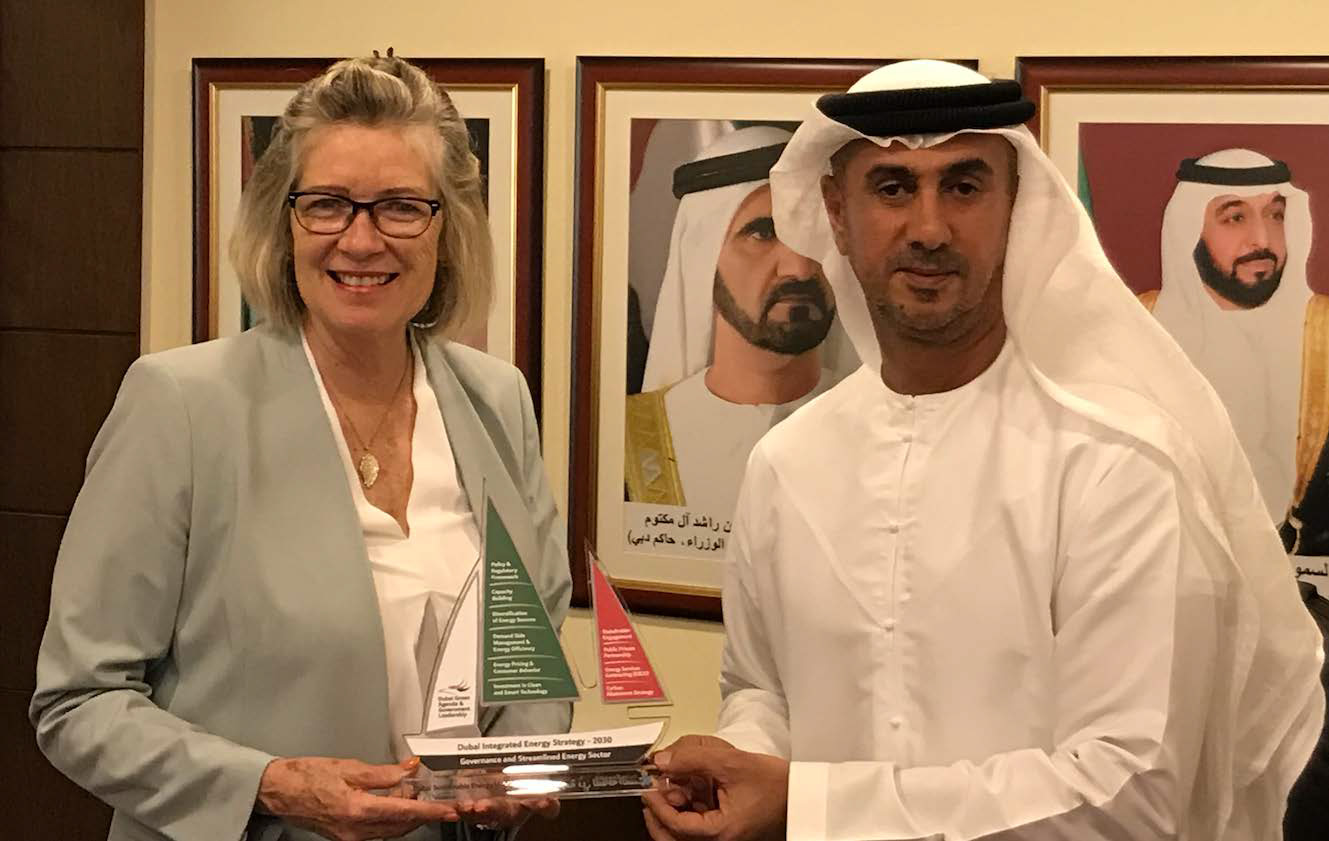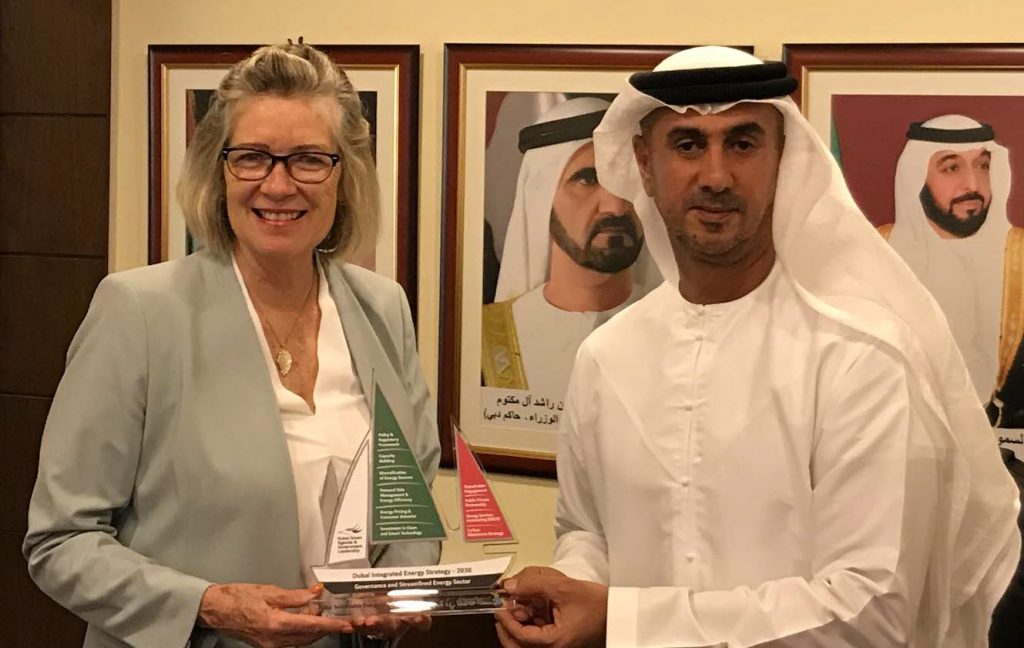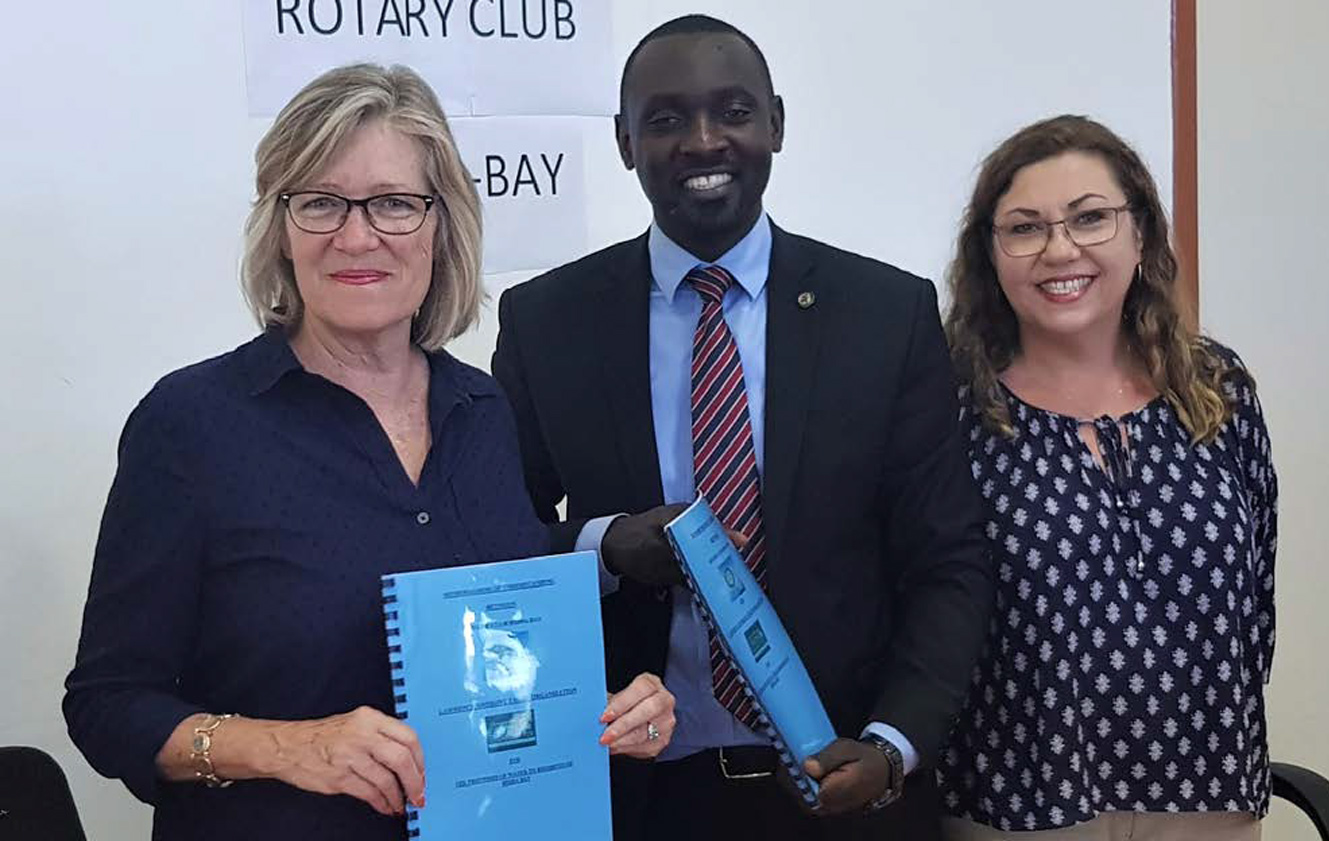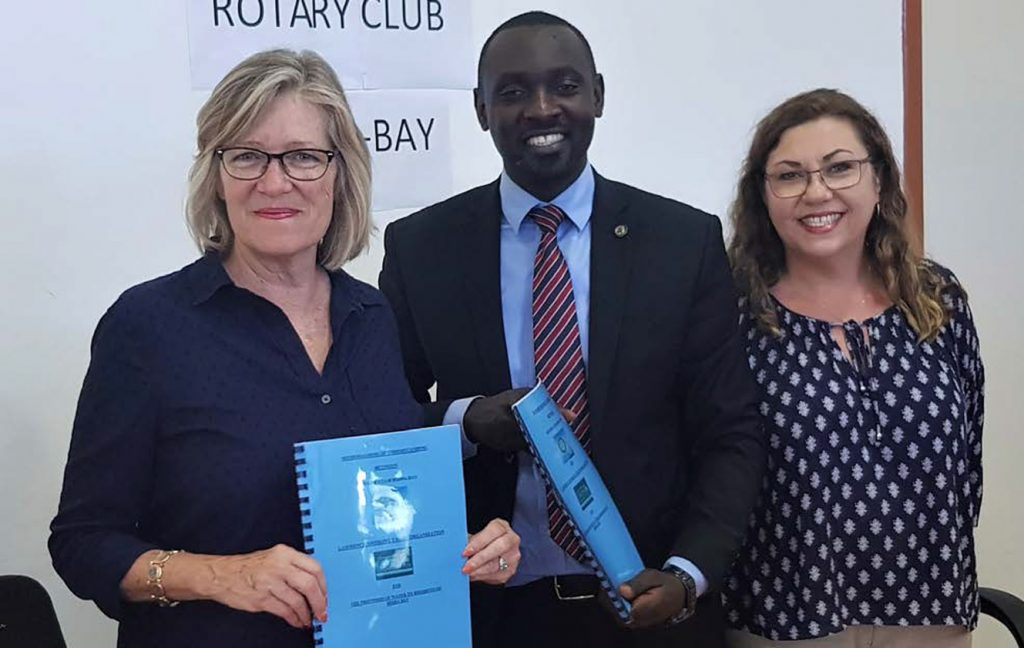 ADVANCEMENT OF WATER LOCATION TECHNIQUES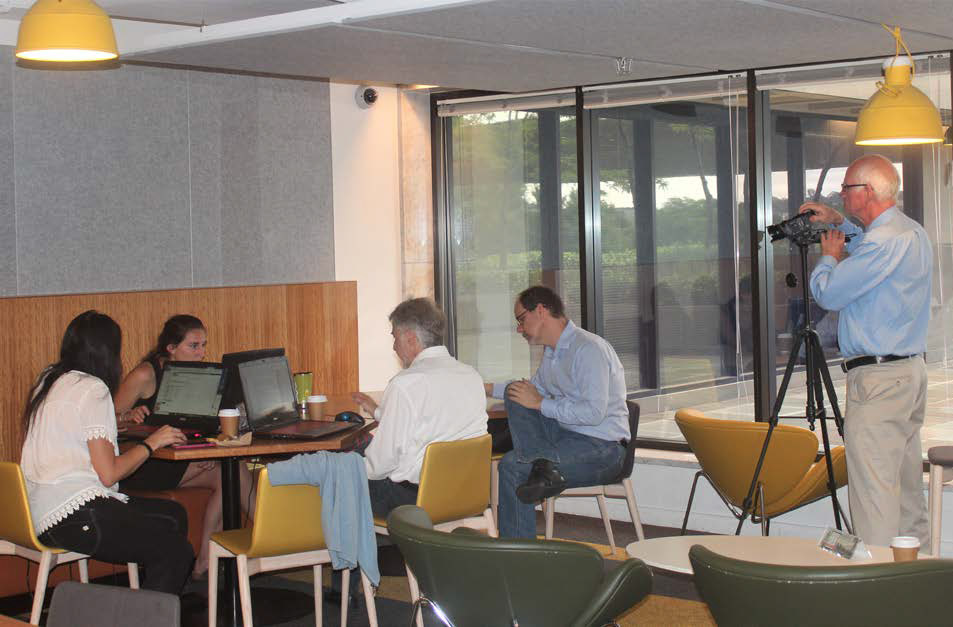 A particularly important function of the environmental work we have taken on is to codify and create training materials for new water exploration techniques that were never before properly documented to ensure these technologies and methods are not lost.
Our team, under the guidance of Deputy Managing Director of Operations Clark Carr, launched an in-depth compilations project, creating formal training videos with full transcripts and indexes of dozens of technical training sessions conducted by our experts, resulting in more than 35 hours of professional video training programs.
As a part of this, we integrated previously pen-and-paper analysis techniques into computer software programs.
DEVELOPING FOOD SECURITY SOLUTIONS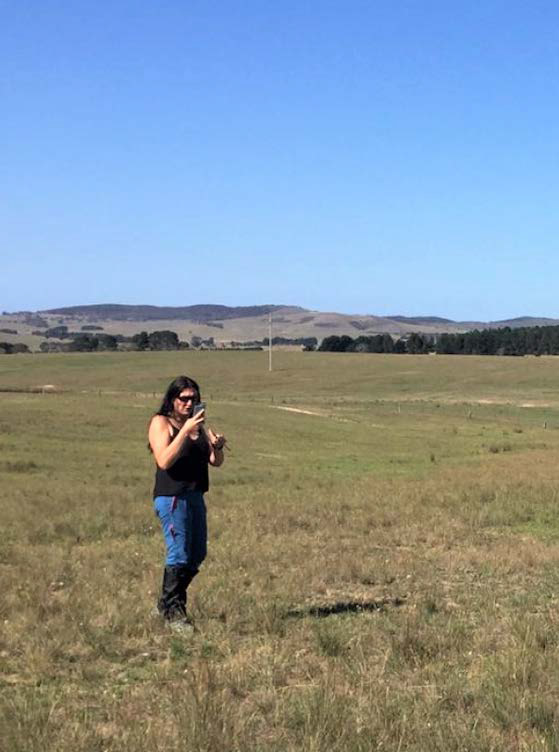 As a first step towards helping to reverse environmental damage created by
conventional agricultural practices using toxic chemicals, our science team, led by Bettina Koch, our Environmental Scientist, began researching and developing a food security program with the ultimate aim of codifying an integrated system of environmental technologies to help farmers achieve truly sustainable food security and prosperity without causing damage to interlinked ecosystems.
We have identified improved methods of a) cleaning up soil and groundwater contamination; b) enhancing and regenerating soil fertility; and c) enhancing crop production and increasing pest resistance through non-toxic products and methods.
Through this work, we have begun to create a nature-friendly food production system that we intend will go hand-in-hand with our water location tech in order to bring about healthy people, healthy wildlife,
healthy food, healthy water and a healthy environment.